My first sew-along making a "Kuschelkatze"
May 2014
Finally! I dusted off my sewing machine and made this cuddly cat. It is going to be a present for a little 1 year old girl called Lotte and also my entry for Julia's sew-along. I've worked with Julia on web projects before and she also does supercute crafty stuff. Check out her blog Kreativlabor Berlin with lots of sewing patterns and tips.
Most of the material I used for the cat is from Frau Tulpe. The sewing went fine only the bum of the cat turned out to be hard to apply so the whole thing looks a bit off :D To disguise the faulty bum and to strengthen the seam I've stitched it up with black wool. I also added some extra fun for little Lotte: If the head of the cat is squeezed it makes a squeaky noise.
Hope to do some more sew-alongs in the future cos this was fun :)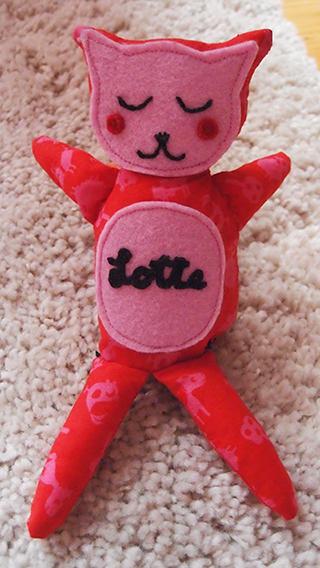 "Kuschelkatze" front and bottom